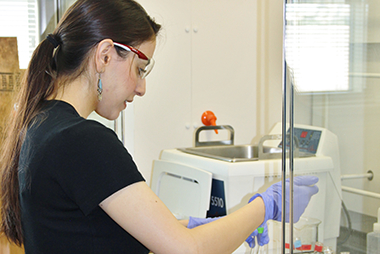 "I love that chemistry is so ubiquitous. From living to nonliving things in our environment, it impacts every single aspect of our lives."
So ubiquitous, in fact, that it would lead senior Zehra Khan to gain another personal connection to Lahore, Pakistan, the city where her parents immigrated from.
In the spring of her sophomore year, after taking courses in basic biology and organic chemistry, Khan found herself intrigued by chemistry's environmental applications. Although she had yet to declare an official major, Khan was referred to Assistant Professor Betsy Stone's lab by a friend who was aware of her interests.
"Come to find out," she recalls, "this lab had conducted research on atmospheric chemistry in Pakistan! I had recently been on a trip to Lahore and was taken aback by the smoggy skies myself. When I met with Dr. Stone, she offered me an opportunity to do research on filter samples from Karachi, Pakistan [a city southwest of Lahore]. I was excited for the chance to do research on a place that I have close cultural ties to, as well as on a subject that I find fascinating."
Knowing what is polluting the air, and where the pollutants are coming from, is important in helping to create a cleaner environment. The Stone Laboratory combines analytical, environmental, and organic chemistry to advance the understanding of the chemical composition and sources of atmospheric particulate matter. The tiny particles that Khan is working with are called aerosols, which can come from a variety of sources, including vehicle emissions, power plants, and biomass burning. Depending on their concentrations and chemical makeup, these aerosols can induce negative human health impacts.
As a member of Stone's research team, Khan primarily focuses on the samples from the Karachi field site, detecting, measuring, and sourcing the organic components.
"The filter samples," Khan explains, "are small cloth circles that are basically black from all of the particles in the air that get caught in the filter. Then we extract all of the particles that the filter has caught using the sonicator, which is a machine that essentially shakes the soot and other particles off of the filter and into a liquid solution that we run through our instruments. I also perform various statistical tests and analyses to determine the sources and causes of the air pollution."
The Karachi samples contain particulate matter of less than 2.5 micrometers in diameter (PM2.5). "These particles are smaller than the width of a strand of hair," Khan says, putting their size into perspective. "The smaller the particles are, the easier and deeper they can get into your lungs. This can make it harder to breathe, especially for people who already have conditions like asthma."
The applied aspect of the research and getting one step closer to being able to take measures to improve poor air quality is what motivates Khan the most…and she loves to tell others about it.
Khan cites participation in the 11th Annual Spring Undergraduate Research Festival as one of her most rewarding experiences. "It gave me a chance to show my hard work and talk about the exciting research that our group does!"
She believes that "one of the most valuable skills you learn in being a researcher is the ability to break down what you do for people outside your field. It can be very challenging to have to explain your jargon-filled research in general audience language."
"What you get out of research" she says, "is a lot of times what you make it. I have become a more critical thinker and have learned how to better solve problems when they arise."
These are the outcomes that Stone wants for her undergraduate team members. "College," Stone says, "is a great time to get involved in research because you get to explore a lot of new things and develop new skills. Zehra is a productive, engaged, and dedicated researcher. I'm thrilled to be able to work with her."
The skills that Khan has developed as an undergraduate researcher will certainly come in handy as she pursues her future goals. In addition to her chemistry major, Khan is also on the pre-medicine track. Planning to take a gap year to obtain a master's degree, either in public health or chemistry, she hopes to enter medical school in the fall of 2017. Keeping one eye on her medical goals, she also works as a lab technician at the UIHC Orthopaedics Lab, volunteers at UIHC and a nursing home in her hometown, and serves as a member of the UI Special Olympics executive board. As if she wasn't busy enough, Zehra has also been involved in the UI's Student Government and the Indian Student Alliance.
For now, Khan has several pieces of advice for other students interested in getting involved in research as an undergraduate:
You don't have to worry about being inexperienced in the field when you start off. It is perfectly normal if a lot of it goes right over your head. The most important thing is to show your group mates and professor that you care and are eager to learn!
If you get an opportunity to present at a meeting, conference, or poster festival I'd highly recommend participating to practice communication skills.
If you get a chance to do research, do it! You'll get to learn with some of the experts in the field, which is a rare opportunity to have.
Information provided by The University of Iowa