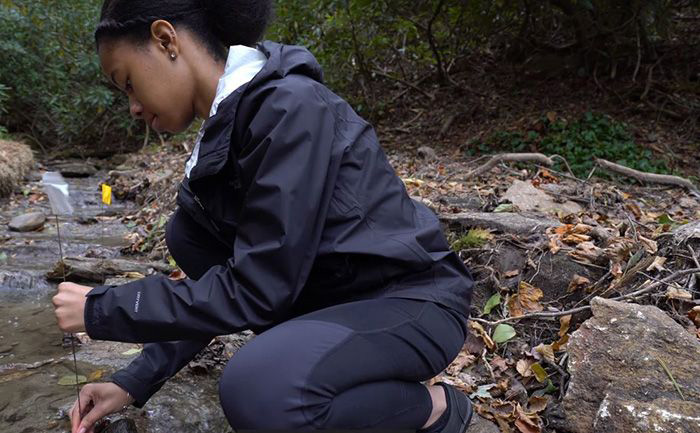 After three years at Carolina, Brandon Edwards had grown accustomed to emerging from his Tar Heel blanket-covered bed every morning and heading to campus to find a seat in a lecture hall.
Last semester, however, his surroundings changed from a bustling college campus to a mountain landscape. Edwards spent the fall semester in the town of Highlands, about 90 minutes southwest of Asheville, to study at the Highlands Biological Station.
A multicampus center of Western Carolina University, the Highlands Biological Station has served as a field site for the UNC Institute for the Environment since 2001, giving UNC-Chapel Hill students an opportunity to study and conduct research for a full semester. Eight Carolina students spent the fall 2018 semester studying in Highlands, taking classes and working on research projects out in the field.
"Being in Highlands reinforces a lot of what I've learned in a classroom with a lot of the hands-on stuff that we do, and it gets me different skill sets that I wouldn't have gotten in class," said Edwards, a senior environmental science and biology major.

The Highlands Biological Station is a base camp for research and education, serving the broader scientific community, said Jim Costa, executive director of the Highlands Biological Station.
"The different classes that they're taking and the particular research projects that they're conducting are designed to give them real-world experience," Costa said. "Techniques that will be used professionally, they're getting hands-on experience with those here."
For Lauryn McMiller, a senior environmental studies major, that's meant a lot of time spent in mountain streams, studying sedimentation and erosion in the Upper Cullasaja watershed and related local ordinances.
"My Carolina experience is much more valuable this way," McMiller said. "We retain information differently here because we go over it so much and we're able to go out in the field and see what it is we're talking about. So, information sticks a little differently here than it does on campus."
By Rob Holliday
Taking the Classroom to the Mountains was originally published on the University of North Carolina at Chapel Hill website.