The SEA-PHAGES program is a national, two-semester, discovery-based undergraduate research course that begins with digging in the soil to find new viruses, then progresses through a variety of microbiology techniques and eventually to complex genome annotation and bioinformatic analyses.
The program aims to increase undergraduate interest and retention in the biological sciences through immediate (freshman-year) immersion in authentic, valuable, yet accessible research. By finding and naming their own bacteriophages, students develop a sense of project ownership and have a ready-made personal research project at a fraction of the cost of traditional apprentice-based research programs.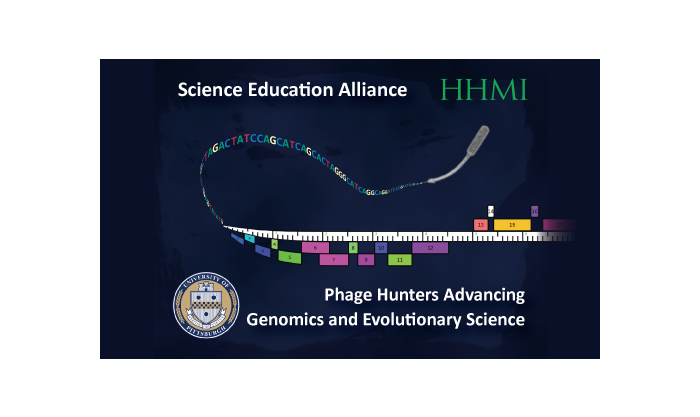 During the 2013-14 academic year, the SEA-PHAGES course was taught in 73 institutions with over 2000 student researchers participating. The program features a yearly Symposium at HHMI's Janelia Farm Research Campus. The 2014 Symposium had 240 attendees, including 130 undergraduates, 18 of whom gave talks about their research projects while the remainder presented posters.
The course was first offered in 2008, and since that time SEA-PHAGES students have isolated and archived over 4000 mycobacteriophages, sequenced more than 460 complete genomes, and submitted over 180 annotations to GenBank. Seventeen peer-reviewed publications have come out of the program, at least six of which have included undergraduate authors. A program-wide paper was recently published in mBio that described some of the measured effects of this program, including increased retention in STEM fields and better grades in Biology lecture classes compared to students who took traditional lab courses.
SEA-PHAGES is jointly administered by Graham Hatfull's group at the University of Pittsburgh and the Howard Hughes Medical Institute's Science Education division, and is supported by HHMI.