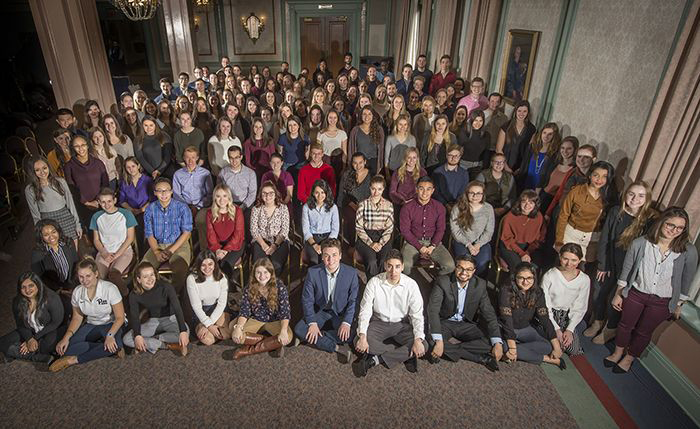 University of Pittsburgh senior Cassidee Knott says life after college can feel intimidating, but a close mentor who's been through it before can ease those feelings.
"It is important to be able to connect with and learn from people who were going through what you were going through just a few years earlier," said Knott, a Panthers Forward participant who is majoring in history with minors in English literature and French and working on a certificate in Medieval and Renaissance studies. "You can learn from their successes and failures and see what Pitt has done for them and to know what there is to look forward to."
Knott, of Jeannette, Pennsylvania, is among 150 Pitt seniors taking part in Panthers Forward, an innovative new program launched by Pitt Chancellor Patrick Gallagher. The program aims to reduce federal student loan debt and, in turn, help new graduates gain greater economic stability. It also connects these students to a special network of alumni mentors who are committed to supporting their professional success. This program's first class gathered on Dec. 7 for a welcome celebration with alumni and Pitt leadership.
"I'm incredibly proud of our inaugural Panthers Forward class — and their alumni mentors — for joining us in thinking outside the box and believing in a program that truly breaks the mold," said Gallagher. "We are celebrating something unheard of in the student loan space: a program explicitly designed to support students, future students and their lifelong success."   
Through her involvement in Panthers Forward, Knott and her classmates will work with alumni mentors — formally called Alumni Ambassadors — to fill in some important blanks on navigating life after college. Alumni Ambassadors will offer expertise, guidance and a professional network to participating students.
"When back on campus, I'm energized by my interactions with students and impressed by their accomplishments and passion for making a difference in the world," said Lisa Polar (KATZ '98) of Coraopolis, Pennsylvania, a human resources executive who is volunteering along with more than two dozen Alumni Ambassadors for the Panthers Forward program. "Volunteering as a mentor gives me a great opportunity to pay it forward, taking my knowledge and experiences rooted in Pitt and using them to make a small impact on the lives of others."
Through the Panthers Forward program, the University directly pays up to $5,000 of each participating student's federal loan total. Upon graduation, these students will be asked — but not required — to pay it forward to the program in order to support future Panthers Forward students.
"It appeals to students of various backgrounds and experiences, as you're encouraged to give back in ways that you are able. It's an actual forgiveness problem that can really help students financially," said Ami Fall, a Panthers Forward participant from Ann Arbor, Michigan, who is studying political science; French; global studies; and gender, sexuality, and women's studies.
Knott agreed. "Eventually, I'll be able to help a student like me and show them that college debt might be really daunting, but I've been through it and it does not have to be scary because things are going to get better."
Pitt Celebrates First Panthers Forward Class was originally published on the University of Pittsburgh website.