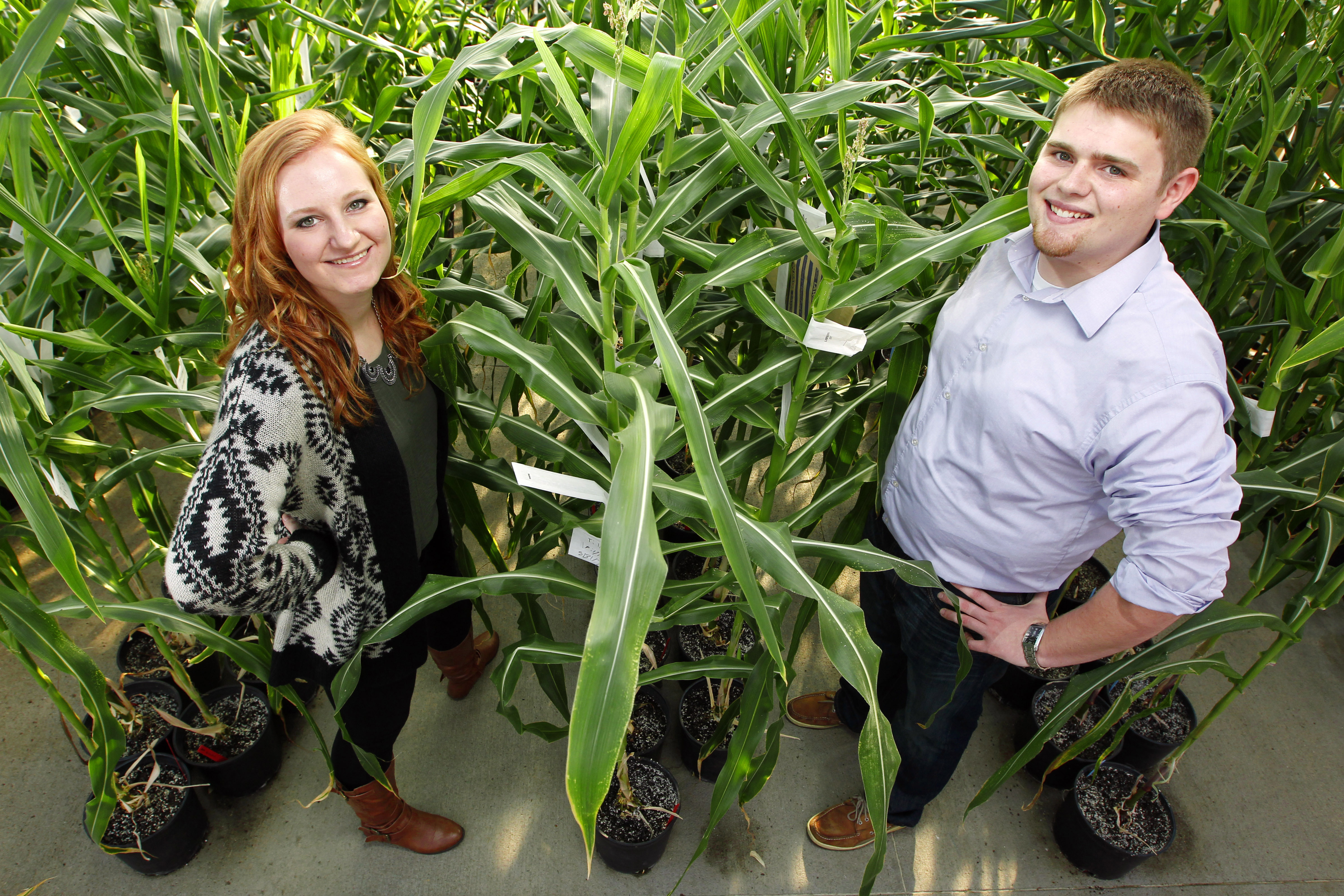 AMES, Iowa – Olivia Reicks and Trey Forsyth want to be part of the solution to end world hunger. It's a daunting task considering that it will take a 70 percent increase in food production by 2050 to meet the demands of a growing global population, but that only serves as motivation for the two Iowa State University undergraduates.
Reicks, a junior majoring in supply chain management and business economics, and Forsyth, a sophomore majoring in ag business and agriculture and society, have different ideas on how to achieve food security. They will spend the next semester developing their concepts into a workable solution for the Land O'Lakes Global Food Challenge Emerging Leaders for Food Security fellowship.
"This isn't supposed to be some project that's nice in theory," Reicks said. "Our first challenge is to make sure the idea is feasible and that it's a project actually worth pursuing."
Through her research, Reicks is learning about the tremendous amount of food waste in developing countries due to transportation problems, poor infrastructure or insect infestation. She is working to find ways to eliminate waste at different points in the supply chain to prevent spoilage.
Forsyth wants to help farmers in impoverished countries overcome challenges with transportation and infrastructure to get their crops to a food production facility. His idea is to develop a cooperative system among rural communities and bring the food processing equipment to farmers. He's learning there are several factors, such as economics, environmental practices, and government policy to consider.
"The whole issue of food security is so much more complex than I ever imagined. There's not one solution or one answer to all the problems. A solution may work in one community or one country, but doesn't work elsewhere," Forsyth said.
Land O'Lakes Inc. selected 10 students from five universities to be a part of this new initiative. Students will receive a series of challenge assignments to complete as they work with their academic mentor on the project throughout the school year. They will then spend the summer interning at Land O'Lakes Inc., which includes a two-week trip to Africa to see the problems first-hand, followed by a week in Washington, D.C., to learn about policy.
"This is a unique opportunity. The company is really making an impact in helping students realize how big of an issue food security is and giving them the skills they can use in the real world. It's not your typical internship, but I think it will really be a unique experience for all of the students," said Carly Cummings, Forsyth's mentor and a program assistant for the Agricultural Entrepreneurship Initiative at Iowa State.
No single solution to world hunger
Finding a solution that can be successfully implemented will require a lot of trial and error. Forsyth and Reicks, both Iowa natives, will present their final projects to industry leaders at the Global Food Challenge Summit in August. Land O'Lakes is giving students the latitude to experiment, with few restrictions, to cultivate new ideas.
"Just recognizing that there is a problem is not going to change anything," Forysth said. "It's projects like this, educating students and getting them passionate about the issues, that's really going to make a difference."
Reicks and Forsyth are learning there's no single solution to end world hunger, and they're reminded by their mentors that it doesn't take a massive initiative to have an impact.
"If the problems were easy, they would be solved by now," said Kurt Rosentrater, Reicks' mentor and an assistant professor of agricultural and biosystems engineering at Iowa State. "There are so many ways to make small changes that could result in big differences. There's a lot of grain wasted, and if you can do some small things to make big changes, it can potentially make a big difference in a lot of people's lives."
Having worked on other international development projects in Africa, Rosentrater knows that failure is part of the equation. He and Cummings are there to help guide the students so that when they hit a road bump it doesn't derail the project. That shouldn't be a problem. Both Forsyth and Reicks know that given the circumstances, giving up is not an option.
"This is what I'm passionate about and obviously it's time well spent trying to feed the world," Reicks said. "We know this is a problem, it's happening now and that really created an urgency to do something. The problem is only going to get worse, so we need to start finding solutions now."
Information provided by Iowa State University